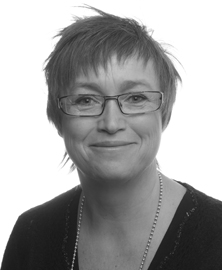 Professor of Computer Science/Dean
School of Informatics
Contact info
Professor in Computer Science
Ph.D., Associate Professor
Ph.Lic., M.Sc.
University of Skövde
Informatics Research Centre
School of Humanities and Informatics
P.O. Box 408 Phone: +46-500-448342
SE-541 28 SKÖVDE Fax: +46-500-448599
SWEDEN
Publications
2018


Enterprise Modeling: Facilitating the Process and the People

Stirna Janis, Persson Anne

Cham: Springer, 2018.
Kontinuerlig endringsarbeid

Karlsen Anniken, Persson Anne, Gudfinnsson Kristens

Bergen: Fagbokforlaget, 2018.

2017


Challenges to Implementing IT Support for Evidence Based Practice Among Nurses and Assistant Nurses: A Qualitative Study

Rexhepi Hanife, Persson Anne

Journal of Electronic Commerce in Organizations, 2017, 15(2), 61-76.
Communicating continuous improvement in manufacturing companies: Divergencies between current practice and theory

Larsson Carina, Strand Mattias, Persson Anne et al.

PMAA - Performance Measurement Association Australasia 1-3 march 2017, Dunedin. 2017.
Enterprise Modeling for Business and IT Alignment: A Framework and Recommendations

Kaidalova Julia, Seigerroth Ulf, Persson Anne

Complex Systems Informatics and Modeling Quarterly, 2017(12), 66-85.
Towards a digital tool for managing goals and keep track of goal achievements in change practice

Gudfinnsson Kristens, Karlsen Anniken, Persson Anne

Norsk konferanse for organisasjoners bruk at IT (NOKOBIT) (1-9). Bibsys Open Journal Systems, 2017.

2016


Supporting Active Patient and Health Care Collaboration: A Prototype for Future Health Care Information Systems

Åhlfeldt Rose-Mharie, Persson Anne, Rexhepi Hanife et al.

Health Informatics Journal, 2016, 22(4), 839-853.
The SmallBuild+ Business Development Method: Findings from a Longitudinal Study in the Construction Sector

Karlsen Anniken, Persson Anne, Gudfinnsson Kristens

Norsk konferanse for organisasjoners bruk av IT (NOKOBIT), Bergen, Norway, 28-30 November, 2016. Norsk Konferanse for Organisasjoners Bruk av IT, 2016.
Worlds Apart - IT Support Strategies for Evidence Based Medicine Meet Reality

Rexhepi Hanife, Persson Anne

Proceedings of the 9th IADIS International Conference on Information Systems, 2016, 9–11 April, Vilamoura, Algarve, Portugal (3-10). IADIS Press, 2016.