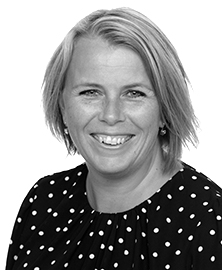 Senior Lecturer in Computer Science
School of Informatics
Contact info
Assistant professor at School of Humanities and Informatics, University of Skövde, Sweden

Member of the Information Systems Research Group

Director of Graduate Studies

Representative of cognitive science (undergraduate studies)
Research interests
Current research interest is requirements engineering (RE) decision-making and RE decision support. The decision situation of the requirements engineer can be both complex and difficult to manage, due to for example the getting a general view of the large amount of information made by the requirements and that multiple persons are involved. Therefore it is important to provide the requirements engineers with appropriate decision support, for example requirements management tools that are adapted to the actual tasks. To be able to improve such decision support comprehension of the requirements engineers' decision situation is essential, e.g. which decisions are actually made; which factors affect them; what decision-making activities do they carry out; and which decision processed exists? With this understanding as a base it is possible to approach what kind of decision support requirements engineers need and how such a support should be constituted.
Network
Member of SiREN - Swedish Requirements Engineering Research Network.
Teaching
Currently involved in the following courses.
Human-computer interaction, Advanced level
Human-computer interaction - Usability B, Basic level
Human-computer interaction - Research perspective C, Basic level
Project in cognitive science, B Basic level
Cognitive science - Qualitative method B, Basic level
Decision support - A user-centred perspective C, Basic level
Decision support - A user-centred perspective, Advanced level
Final year project in cognitive science C, Basic level
Project in design of interactive systems B, Basic level
Project work in cognitive science A, Basic level
Publications
Alenljung, B. & Persson, A. (2008) Portraying the practice of decision-making in requirements Engineering - A case of large scale bespoke development. Requirements Engineering, 13(4), pp. 257-279
Alenljung, B. & Persson, A. (2008) DESCRY: A method for evaluating decision-supporting capabilities of RE tools. In: B. Peach & C. Rolland (Eds.), REFSQ 2008, LNCS 5025, pp. 52-57
Alenljung, B. (2008) Envisioning a future decision support system for requirements engineering: A holistic and human-centred perspective. Doctoral Thesis, Department of Computer and Information Science, Linköping University, Sweden, Theses No. 1155
Alenljung, B. (2005) Decision-making in the Requirements Engineering Process: A Human-centred Approach. Licentiate Thesis, Department of Computer and Information Science, Linköping University, Sweden, Thesis No. 1204
Alenljung, B. & Persson, A. (2005) Decision-making from the decision-maker's perspective: A framework for analysing decision situations. Proceedings of the 4th International Conference on Business Informatics Research (BIR 2005), 3-4 October 2005, Skövde, Sweden, pp. 13-22
Alenljung, B. & Persson, A. (2005) Decision-making activities in the requirements engineering decision processes: A case study. In: Proceeding of the 14th International Conference on Information Systems Development (ISD 2005), 15-17 August 2005, Karlstad, Sweden
Alenljung, B. & Persson, A. (2005) Factors that affect requirements engineers in their decision situations: A case study. In: E. Kamsties, V. Gervasi & P. Sawyer (Eds.) Proceedings of the 11th International Workshop on Requirements Engineering: Foundation for Software Quality (REFSQ'05), 13-14 June 2005, Porto, Portugal, pp. 25-39
Alenljung, B. and Persson, A. (2004) Supporting requirement-based decision-making in the software engineering process: A position paper. In: B. Regnell, E. Kamsties & V. Gervasi (Eds.) Proceedings of the 10th International Workshop on Requirements Engineering: Foundation for Software Quality (REFSQ 2004), 7 -8 June 2004, Riga, Latvia, pp. 63-68