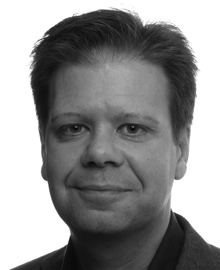 Associate Professor of Computer Science
School of Informatics
Contact info
PhD in Computing Science, Docent in Computer Science, Interactive Knowledge Systems
Associate Professor (Biträdande professor) of Computer Science
Senior researcher at the Informatics Research Centre and
Skövde Artificial Intelligence Lab
Issues
Research projects
Research students
Main supervisor of research students Rikard Laxhammar (Saab AB, Järfälla) and Tove Helldin.
Co-supervisor of research student Tina Erlandsson (Saab AB, Linköping).
Former main supervisor of research students Maria Riveiro, Ph.D. March 17, 2011,

Fredrik Johansson

, Ph.D. December 1, 2010, and Marie Gustafsson, Ph.D. June 15, 2009.
Former co-supervisor of research students Christoffer Brax, Ph.D. September 19, 2011,

Hajar Kashfi

(Chalmers University of Technology), Ph. licentiate June 9, 2011, and Anders Dahlbom, Ph.D. February 7, 2011.
Recent publications
Gustafsson Friberger, M. and Falkman, G. (2013) Collaboration processes, outcomes, challenges, and enablers of distributed clinical communities of practice. Behaviour & Information Technology 32(6), 519–531. London: Taylor & Francis. DOI 10.1080/0144929X.2011.602426.
Helldin, T., Falkman, G., Riveiro, M., Dahlbom, A. and Lebram, M. (2013) Transparency of Military Threat Evaluation Through Visualizing Uncertainty and System Rationale. In Proc. 15th Int. Conf. on Human-Computer Interaction (HCII 2013), 21–26 July 2013, Las Vegas, Nevada, USA, pp 263–272.
Helldin, T., Falkman, G., Riveiro, M. and Davidsson, S. (2013) Presenting system uncertainty in automotive UIs for supporting trust calibration in autonomous driving. To appear in Proc. 5th Int. Conf. on Automotive User Interfaces and Interactive Vehicular Applications (Automotive'UI 13), Eindhoven, The Netherlands, October 27–30, 2013.
Laxhammar, R. and Falkman, G. (2013) Inductive conformal anomaly detection for sequential detection of anomalous sub-trajectories. Annals of Mathematics and Artificial Intelligence (Online First). Springer. DOI 10.1007/s10472-013-9381-7.
Laxhammar, R. and Falkman, G. (2013) Online Learning and Sequential Anomaly Detection in Trajectories. To appear in IEEE Transactions on Pattern Analysis and Machine Intelligence.
Riveiro, M. and Falkman, G. (2013) Detecting anomalous behavior in sea traffic: a study of analytical strategies and their implications for surveillance systems. To appear in Int. J. Information Technology & Decision Making.
Riveiro, M., Helldin, T. Lebram, M. and Falkman, G. (2013) Towards future threat evaluation systems: user study, proposal and precepts for design. To appear in Proc. 16th Int. Conf. Information Fusion (FUSION 2013), Istanbul, Turkey, July 9–12, 2013
CV