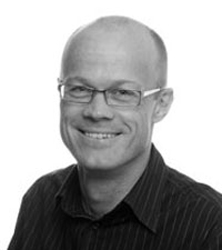 Senior Lecturer in Computer Science
School of Informatics
Contact info
.
This is a proxy page.
Up-to-date information can be found at
www.his.se/matg
Activities
Member of the SAIL research group.
Member of the DRTS research group.
Dept. chair:
- School of Communication and Information, Dept. of IT 2011-2013
- School of Informatics, Division Alpha 2014-2017
Attended CUGS national graduate school.
Visiting scholarship at University of Virginia, Feb-June, 2007
Teaching
Study Program Responsible
Computer Science Study Program (Datavetenskapligt program, 180p), past
Lecturer
Algorithms and Data Structures (DA114G)
Big Data Programming (IT715A, MSc level)
Distributed Real-Time Systems (DA712A)
Distributed Systems (DA558G)
Software Engineering (DV316G)
Software Engineering - game design / Game project A (DV120G)
Software Engineering - game programming / Game project A (DV122G)
Webb programming (DA330G)
Supervisor and examiner
MSc projects and MSc Theses
BSc final year projects
Research
"Virtual Full Replication for Scalable Distributed Real-Time Databases"
[ Thesis ]
Publications
Publications can be found here
CV in brief
Academic
2010- Assistant Professor, University of Skövde
2002-2009 PhD Student in Distributed Real-Time Systems
University of Skövde
2001-2002 Master of Science in Computer Science, New Generations
University of Skövde
1998-2001 Bachelor of Science in Software Engineering,
University of Skövde
Professional
1995-1998 System development, Industrial control systems
Lidköping Machine Tools / SKF
1992-1995 System development, Production data collection
SKF Engineering & Research Centre, The Netherlands
1986-1992 System development, Industrial control systems
Lidköping Machine Tools / SKF