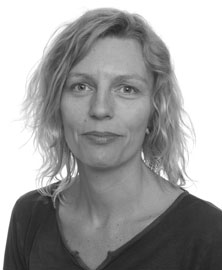 Senior Lecturer in Computer Science
School of Informatics
Contact info
Jenny Brusk, PhD
I have a background in computational linguistics and almost 20 years of experience of working with games, first as a game developer and later with the games educations in Skövde and Gotland. In 2011 I initiated DONNA, a project that works with gender equality and inclusive game development. I am also member of the board of Diversi, a collective force for creating diversity in games.
Teaching
I am program director of Computer Game Development – Design and teacher in the following courses:
Preproduction of story-driven games – design and game writing
Game Design
Experimental Game Mechanics
Game Dialogue Systems
Supervisor and examiner of Bachelor theses in computer science with specalization towards game development.
Research
My main research interest is game dialogue systems, in particular how game dialogues can be a means for game characters to express social competence. I am also interested in inclusive game design and I am currently part of the research project Inclusive Game Design in which we explore how to create games that can be played by seeing as well as visually impaired players on equal terms and with equal satisfaction.
Publications and presentations
Publications
2010


A Computational Model for Gossip Initiation

Brusk Jenny

Aspects of Semantics and Pragmatics of Dialogue: SemDial2010, 14th Workshop on the Semantics and Pragmatics of Dialogue (139-142). Poznan: Polish Society for Cognitive Science, 2010.
Don't tell anyone!: Two Experiments on Gossip Conversations

Brusk Jenny, Artstein Ron, Traum David

Proceedings of the SIGDIAL 2010 Conference: The 11th Annual Meeting of the Special Interest Group on Discourse and Dialogue, 24-15 September 2010, Tokyo, Japan (193-200). Association for Computational Linguistics, 2010.