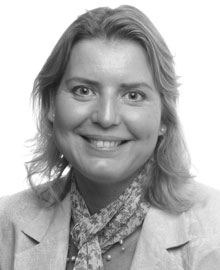 Associate Professor of Informatics
School of Informatics
Contact info
Autobiography
Jessica Lindblom is a senior lecturer of cognitive science. My research interests are social aspects of embodied, situated, and distributed cognition, and their implications to interactive technology.
CV
PhD in Cognitive Systems, Linköping University, 2007
MSc in Informatics, University of Skövde, 2001
BSc in Cognitive Science, University of Skövde, 2000
Veterinary assistent, Swedish University of Agricultural Sciences, Skara, 1994
Publications
2017


Managing Mediated Interruptions in Manufacturing: Selected Strategies Used for Coping with Cognitive Load

Lindblom Jessica, Gündert Jonna

Advances in Neuroergonomics and Cognitive Engineering: Proceedings of the AHFE 2016 International Conference on Neuroergonomics and Cognitive Engineering, July 27-31, 2016, Walt Disney World®, Florida, USA (389-403). Springer, 2017.
Manufacturing in the wild: viewing human-based assembly through the lens of distributed cognition

Lindblom Jessica, Thorvald Peter

Production & Manufacturing Research, 2017, 5(1), 57-80.
Missing mediated interruptions in manual assembly: Critical aspects of breakpoint selection

Kolbeinsson Ari, Lindblom Jessica, Thorvald Peter

Applied Ergonomics, 2017, 61, 90-101.
Promoting sustainable intensification in precision agriculture: review of decision support systems development and strategies

Lindblom Jessica, Lundström Christina, Ljung Magnus et al.

Precision Agriculture, 2017, 18(3), 309-331.
Reframing HRI Education: A Dialogic Reformulation of HRI Education to Promote Diverse Thinking and Scientific Progress

Montebelli Alberto, Billing Erik A., Lindblom Jessica et al.

Journal of Human-Robot Interaction, 2017, 6(2), 3-26.
Tool use and collaborative work of dock assembly in practice

Andreasson Rebecca, Lindblom Jessica, Thorvald Peter

Production & Manufacturing Research, 2017, 5(1), 164-190.
User Experience in Social Human-Robot Interaction

Alenljung Beatrice, Lindblom Jessica, Andreasson Rebecca et al.

International Journal of Ambient Computing and Intelligence (IJACI), 2017, 8(2), 12-31.
User Experience of Conveying Emotions by Touch

Alenljung Beatrice, Andreasson Rebecca, Billing Erik A. et al.

Proceedings of the 26th IEEE International Symposium on Robot and Human Interactive Communication (RO-MAN) (1240-1247). IEEE, 2017.

2016


Att främja studenternas förberedelser inför yrkeslivet

Lindblom Jessica, Alklind Taylor Anna-Sofia

NU2016 Högskolan i samhället - samhället i högskolan. 2016.
Considering farmers' situated expertise in using AgriDSS to fostering sustainable farming practices in precision agriculture

Lundström Christina, Lindblom Jessica

Proceedings of the 13th International Conference on Precision Agriculture (unpaginated, online). Monticello, IL: International Society of Precision Agriculture. 2016.