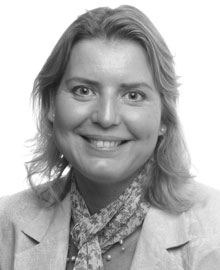 Associate Professor of Informatics
School of Informatics
Contact info
Autobiography
Jessica Lindblom is a senior lecturer of cognitive science. My research interests are social aspects of embodied, situated, and distributed cognition, and their implications to interactive technology.
CV
PhD in Cognitive Systems, Linköping University, 2007
MSc in Informatics, University of Skövde, 2001
BSc in Cognitive Science, University of Skövde, 2000
Veterinary assistent, Swedish University of Agricultural Sciences, Skara, 1994
Publications
2016


Current Challenges for UX Evaluation of Human-Robot Interaction

Lindblom Jessica, Andreasson Rebecca

Advances in Ergonomics of Manufacturing: Managing the Enterprise of the Future: Proceedings of the AHFE 2016 International Conference on Human Aspects of Advanced Manufacturing, July 27-31, 2016, Walt Disney World®, Florida, USA (267-277). Switzerland: Springer, 2016.
Distributed Cognition in Manufacturing: Collaborative Assembly Work

Andreasson Rebecca, Lindblom Jessica, Thorvald Peter

Advances in Manufacturing Technology XXX (243-248). IOS Press, 2016.
Next Generation Decision Support Systems for Farmers: Sustainable Agriculture through Sustainable IT

Lindblom Jessica, Lundström Christina, Ljung Magnus

Farming Systems Facing Global Challenges: Capacities and Strategies.: Volume 1 (49-57). Berlin: IFSA Europe, 2016.
Några framgångsfaktorer för examensarbetets genomförande och resultat för campus- och nätbaserad undervisning

Lindblom Jessica, Svensson Henrik

NU2016 Högskolan i samhället - samhället i högskolan. 2016.
Samverkan med företag: Utveckling av läraridentitet och förberedelser inför studenternas yrkesliv

Svensson Henrik, Lindblom Jessica

NU2016 Högskolan i samhället - samhället i högskolan. 2016.
Sustainability as a governing principle in the use of agricultural decision support systems: The case of CropSAT

Lundström Christina, Lindblom Jessica, Ljung Magnus et al.

12th European IFSA Symposium Programme and Book of Abstracts: Social and technological transformation of farming systems: Diverging and converging pathways (93-94). Harper Adams University, UK: IFSA consortium, 2016.

2015


Distributed cognition at work - A systemic perspective on human based manufacturing

Thorvald Peter, Lindblom Jessica

Proceedings of ICMR 2015 (195-200). Bath, UK: University of Bath, 2015.
Embodied Social Cognition

Lindblom Jessica

Cham: Springer, 2015.
Meaning-making as a Socially Distributed and Embodied Practice

Lindblom Jessica

Aesthetics and the Embodied Mind: Beyond Art Theory and the Cartesian Mind-Body Dichotomy (3-19). Springer Netherlands, 2015.
Mind the body: How embodied cognition matters in manufacturing

Kolbeinsson Ari, Lindblom Jessica

Procedia Manufacturing, 2015, 3, 5184-5191.