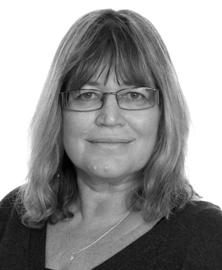 Associate Professor Media Arts, Aesthetics and Narration
School of Informatics
Contact info
Lissa Holloway-Attaway, PhD
Background
I have a PhD and MA in English (University of Georgia, USA), with a focus on 19th Century American Literature, Digital Media and Critical Theory, and I have a BFA in Theater Performance (York University, Canada).
Beginning in Fall 2014, I joined the University of Skövde as an Associate Professor (Biträdande Professor) and Docent in Media Arts, Aesthetics, and Narration within the School of Informatics. I also serve as a Co-Director for the Computer Games Development-Graphics Program and a member of the Media, Technology and Culture (MTEC) research group. I teach within the undergraduate programs in Computer Games Development as well as in graduate education within Media Arts, Aesthetics and Narration. I am also currently a research affiliate of the Posthumanites Hub at Linköping University in the Gender Studies Department, where I also serve as a coordinator for "New Media, Digital Cultures and Social Imaginaries in Feminist Posthumanities" research strand at the GEXcel International Collegium for Advanced Transdisciplinary Gender Studies.
Although I currently work under the general research umbrella of "computer game development," in reality I focus on a range of digital media and its varied expressive forms and genres. My research is driven by an interest in emergent media developments and new forms of digital expression and narrative strategies (from social media, to gaming technologies, experimental literature, mixed media performance, and virtual and augmented reality). As such, I have very interdisciplinary interests and work to marry my humanities background within more technical subjects and areas of research and development. Currently, my research is centered on social and mixed media forms that engage issues of performativity, embodiment, (new) materialism and affect, as well as digital cultural heritage projects that reimagine the cultural space of the traditional museum and visitor experiences supported by gaming technologies and playful, mediated encounters.
From 2005-2014, I was in the Faculty of Computing in the Department of Technology and Aesthetics working on digital media/culture research and teaching at Blekinge Tekniska Högskola (Blekinge Technical Institute) in Karlskrona, Sweden. There I was the Director of the Literature, Culture, Digital Media (LCDM) Programs and the English program. I also worked with colleagues to develop and establish the Digital Culture and Communication undergraduate program, one of the first of its kind in Sweden, and I served as the "subject-responsible" faculty member for the area of Digital Culture. I was a Co-Director of the CP@T-Lab, the Critical Practices and Applied Technologies Lab, an initiative to bring undergraduate students together with senior researchers to work together in digital media projects.
Prior to moving to Sweden in 2005, I worked at Georgia Institute of Technology in Atlanta, GA USA within the School of Literature, Communication, and Culture. There I served as a coordinator for an ABD/Post-Doctoral Brittain Fellowship program focused on communication, culture studies and electronic pedagogy. I also taught a range of cultural studies courses while at Georgia Tech, working with graduate and undergraduate students, and I served as the Director of Electronic Communications for the Ivan Allen College, the liberal arts division at the university. While at Georgia Tech I was a Co-Primary investigator in a Mellon Foundation Grant to explore computer technologies in classroom settings, and I was the recipient of university system awards and other national grants focused on developing and designing digital pedagogies.
Recent/Current Projects
I recently completed work as a primary research partner on a 3 ½ year project, Art Line, funded by the EU South Baltic Programme (2, 000, 000 Euros). The project included 14 research partners in 5 different countries within the Southern Baltic region exploring art innovation in physical and digital space. I worked to develop a series of workshops and seminars, creative practices, touring exhibitions, and publications focused on digital art, media, and performative methods to engage a range of audiences around the Southern Baltic Region.
I am a research partner and project leader in the "Seedbox: An Environmental Humanities Collaboratory." This 4-year project, beginning in 2015, was
funded by two Swedish Research Councils, FORMAS and Mistra (40, 000, 000 SEK). Led by researchers at Linköping University, and including 13 International partners and 20 sub-projects, this interdisciplinary research initiative explores social and environmental issues ranging from studying chemical weapons and toxins in the Baltic Sea to climate change and
sustainable consumption. The goal is to focus on how human development affects natural environmental processes and to foreground related issues through a series of innovative practices and interventions. The transdisciplinary research consortium brings artists, technologists, scientists, sociologists, and humanists together to develop methods and research in an emerging field of study, the Environmental Humanities.
I am currently working with colleagues at the University of Skövde to establish an International network of digital media researchers, academics, technology developers, museum specialists and culture workers to develop a platform for collaboration in the field of digital cultural heritage and game technologies. Funded by an internal university grant to support quality in education and research, we are working to integrate educational programs and share resources (students, faculty, technologies) in an International network with partners in the Nordic region, the EU and the US. We will work to establish a foundation for exploring gamification, play, and new forms of digital immersion and engagement and investigate how they can enrich user-experiences at museums and cultural sites. The kick-off event, a seminar with International speakers and other workshop participants, was held at University of Skövde in Dec 2014, and we will continue with a series of projects and International collaborations in 2015 to set a foundation for the network
I am working with Nordic partner universities and libraries in Sweden, Denmark, and Finland, along with colleagues from the University of Skövde, and the local Public Library in Skövde, to host an exhibition of digital literature for children and youth. This project, funded by the Nordic Culture Fund, is an extension of the "Kid-E-Lit" exhibition to be held at the Electronic Literature Organization Conference in Bergen, Norway in August 2015. The goal is to use that exhibition as an opportunity for interdisciplinary and cross-sector Nordic cooperation, resulting in a touring exhibition of interactive narrative experiences made for children and youth. The exhibition will include works by Nordic artists in Nordic languages, as well as by international artists. After its premiere at the Bergen Public Library in August 2015, the exhibition will travel to other participating Nordic libraries, including the Public Library in Skövde, in spring 2016. Working with faculty and students at the University of Skövde in Spring and Fall 2015, we will also develop original work and design workshops for children for the touring exhibition. The project will result in a publication exploring best practices for e-lit exhibitions and development and create a network of researchers, librarians, writers, and artists interested in bringing quality interactive narrative experiences for children and youth to the public sector.
Select Publications
Articles
"Developing a Sustainable Platform for Digital Knowledge Exchange: Artistic Practice and Creative Research" Art Line: A Baltic Collaboration, Blekinge Museum (2014)
"Digital Bridges and Liquid Borders: Everyday Storytelling and/as Baltic Identity" Art Line: A Baltic Collaboration, Blekinge Museum (2014)
"Performing Materialities: Exploring Mixed Media Reality and Moby-Dick" Configurations: The International Journal of Research into New Media Technologies" (2013)
"Beyond Representation: Embodied Expression and Social Me-dia" Digital Humanities Quarterly (2012)
"Mapping Motility: Affect, Interface, and Posthuman Trace" Towards a Third Culture: The co-existance of art, science, and technology. Omikron Sp. z. o.o, (2011)
"YouTube/My (twittering) Body: exploring embodiment and inscription practices in social media texts and discourse" El Cuerpo en Mente: versions del ser desde el pensamiento contemporaneo. (2011)
Edited Anthologies
Remaking Moby-Dick: A Multivocal Text (Co-editor with Trish Harris) Pea River Journal and Art Line (2013)
An Introduction to Culture Studies (Co-editor with Ogden, et al) Pearson Custom (2000)
Conference/Symposia Organization
Designing Digital Heritage Seminar, University of Skövde, Skovde, Sweden, December 2014 (Seminar Co-organizer, research seminar, 25 International participants)
Mixing Realities: Digital Performance Festival, Blekinge Museum/BTH, Karlskrona, Sweden, May 2013 (Festival Director, Participating Media Artist, 150 International virtual/physical participants)
Performing Exhibitions: displaying digital art and media, BTH, October 2012 (Organizer, research seminar, 70 International participants)
Telling the Baltic: International Art Line Seminar and Artist Workshop, BTH, March 2012 (Co-organizer, research seminar/2 week workshop, 40 International participants)
League of Worlds: Identity Construction and/in Virtual Space, BTH, October 2007 (Co-organizer, conference for interdisciplinary exploration of education, technology in virtual worlds, 75 International participants)
Recent Conference and Symposia Presentations
GameDevDays 2015 Conference: "The Gamification of Vision in the Museum: designing affective learning for cultural heritage." Talinn, Estonia, (April 2015)
NODEM (Nordic Digital Excellence in Museums) 2014 Conference: "Inside Neptun: Using interactive panoramic displays to enhance visitor experience in a museum setting." Warsaw, Poland, Dec 2014
KASTIS Culture Heritage and Game Technologies Seminar: "Augmenting Neptun: enhancing visitor experiences 'inside' a submarine (Naval Museum, Karlskrona)." Skövde, Sweden (Oct 2014)
Life Matters: Affect, Sex, Control Conference: "Digital Affect and Critical Life-ness: A Performance of Shimmers," Linköping, Sweden (May 2014)
Kristeva Circle Conference: "Severed Heads and Maternal Recovery: Julia Kristeva, Artistic Rendering, and Moby-Dick." Nashville TN, USA (March 2014)
The Posthuman: Differences, Embodiment, Performativity Conference: "Performing Embodiment and Thinking With (Moby-Dick)." Rome, Italy (September 2013)
ATGENDER Conference: "Dangling Monkey-Ropes and Sharing Strong Spirits: entangling affects and performing dangerous digital pedagogies." Gothenburg, Sweden (April 2012)
Performing Exhibitions Seminar: displaying digital art and media: "Touching Echos and Making Waves: a media performance." "Karlskrona, Sweden (October 2012)
Entanglements of New Materialisms International Conference: Invited Respondent: "Re-enacting Katie King: Networked Reenactments and Transdisciplinary Media Materials," Linköping, Sweden (May 2012)
The Non-Human Turn in 21st Century Studies: "'Call me Ishmael' and other (new) material performa(c)tivities and ontological entanglements." Milwaukee, Wisconsin (May 2012)
Gender, Bodies, and Technology International Conference: "Mapping Moby: digital cartography, affective bodies, and a whale of a text." Roanoke, Virginia (April 2012)
Telling the Baltic International Art Line Seminar and Artist Workshop: "Sea-ing Stories/Telling Borders." Karlskrona, Sweden (March 2012)
Art and Science: Erasmus Intensive Program Workshop: "Urban Organic Matter(s): Spontaneous Art and Transformative Space." Gdansk, Poland (October 2011)
Media/Art/Culture/Innovation: International Art Line Seminar: "Sc(re)enplaying: defamiliar aesthetics and new spaces for display."Karlskrona, Sweden (October 2011)
People, Places, Stories International Conference: "Digital Bridges and Liquid Borders: Story-Telling and/as Baltic Identity." Kalmar, Sweden (September 2011)
People, Places, Stories International Conference: "Mediating Histories and Dis(re)Membering the Archive."Kalmar, Sweden (September 2011)
Media Art History, "ReWire Conference: "Everyday Aesthetics and Affective Display: self-rendering in/as social media(tions)." Liverpool, UK (September 2011)
8th International Melville Conference: "Herman Melville as Digital Artist: Moby-Dick, Performing Text, and Digital Aesthetics." Rome, Italy (June 2011)
Towards a Third Culture Art and Science Seminar at Laznia Centre for Contemporary Art: "Motile Mapping: Affect, Interface, and Human Trace." Gdansk, Poland. (May 2011)
Conference on College Composition and Communication: Performing the Archive: emergent media, re-composition, and historical re-vision." Atlanta, Georgia (April 2011)
Texts of the Body "Generating Bodies: Discursive Sexed Productions: "YouTube/MyBody: Exploring Embodiment and Inscription Practices in Social Media Texts." Barcelona, Spain (December 2011)
6th European Meeting of Society for Literature, Science and the Arts: "Sc(re)enic Textures: Projected Space and Digital Performance." Riga, Latvia (June 2010)
Futures of Digital Studies Conference: "Beyond Representation: Embodied Expression and Social Me-dia." Gainesville, Florida (February 2010)
South Atlantic Modern Languages Association Conference: "Driving the Cardboard Car: Hand-held Technologies, Mobilities and Communication Transgressions." Atlanta, Georgia (November 2009)
Guild for Mixed Reality Integrators and Generators Seminar: "Performing Spaces and Narrative Innovation," Oslo, Norway (October 2009)
Conference on College Composition and Communication: "Writing /Performance/Space: Alternative Narrative Strategies for Mapping Cultural Experience." San Francisco, California, (March 2009)
South Atlantic Modern Languages Association Conference: "Digital Performance in the Age of New Media: Revisionary Perspectives." Louisville, Kentucky (November, 2008)
Electronic Literature Organization Conference: "Infinite Interfaces and Intimate Expressions: Hand-Held Mobile Devices and New Reflective Writing Spaces." Vancouver, Washington (May 2008)
Publications
2018


Designing Postdigital Curators: Establishing an Interdisciplinary Games and Mixed Reality Cultural Heritage Network

Holloway-Attaway Lissa, Rouse Rebecca

Advances in Digital Cultural Heritage: International Workshop, Funchal, Madeira, Portugal, June 28, 2017, Revised Selected Papers (162-173). Springer-Verlag New York, 2018.
Embodying the posthuman subject: Digital humanities and permeable material practice

Holloway-Attaway Lissa

A Feminist Companion to the Posthumanities (91-101). Cham: Springer, 2018.
Leaving the Small Screen: Telling News Stories in a VR Simulation of an AR News Service

Svensson Torbjörn, Holloway-Attaway Lissa, Etienne Beroldy

Interactive Storytelling: 11th International Conference on Interactive Digital Storytelling, ICIDS 2018, Dublin, Ireland, December 5–8, 2018, Proceedings (352-355). Cham: Springer, 2018.