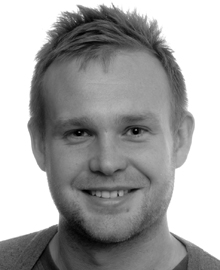 Lecturer in Media Arts, Aesthetics and Narration
School of Informatics
Contact info
About Marcus
Marcus is working with computer games mostly in the subject of Media Arts, Aesthetics and Narration but also in connecting fields at the School of Informatics. He is program coordinator for Computer Game Development - Game Writing together with Torbjörn Svensson.
Research interests
Game development, gamification, game narratives, transmedia storytelling, virtual reality
Projects
Kastis – Digital cultural heritage Skaraborg. 2014 -
KidCOG - Research project for prevention of online sexual grooming of children. Lead game designer, 2014 -
It's about time. Project manager 2014 - 2015
Karlsborgs Fortress Adventure. Project manager and game designer 2010 - 2013
The Mystery of St: Elin. Project manager for the pre-production of the iPad game The Mystery of St:Elin during spring 2013. The game is a research platform to study knowledge transfer with digital games. Can you, as a youngster (8-12 years old) understand a city's development and growth through participation in a location based pervasive game. In the game you are to help Elin, 13 years old, to complete tasks at 5 different locations in central Skövde.
Presentations
Dataspel – forskning och utveckling (Computer games – research and development) Forskarfredag, Delagardiegymnasiet Lidköping, 2014. Invited speaker.
Verklighetsbuggar (Reality bugs) Science Slam, Forskarfredag Skövde, 2013.
Evolution: Konst + vetenskap = Super Mario (Evolution: Art + science = Super Mario) Science slam, Forskarfredag Skövde, 2012.
Spelutveckling i Skövde (Game development in Skövde) Presentation and workshop for retiree associations in Skövde, 2014
Informationsdesign – nya sätt att gestalt och förmedla berättande Presentation at the seminar "Om inkluderande arbete, interaktiv design och effektmål utifrån utställningsprojektet "Det ligger i tiden". (About interactive design and effect in the exhibition It´s about time.) 11-12 February 2015 at the Regional museum in Kristianstad, Sweden.
Serious games for health care Mölnlycke and Härryda, april 2014
Conference presentations
A computer game for an enhanced visitor experience. Game and Entertainment Technologies MCCSIS/GET 2014, Lisboa Portugal.
Evolution: Konst + vetenskap = Super Mario (Evolution: Art + science = Super Mario) with Lars Vipsjö at Röntgenveckan 2014, Göteborg. Invited speakers.
Enhanced game experience through novel interface design. Under the Mask 2011, Luton England.
Selected courses taught
Introduction to game design and prototyping, 15 ECTS
Experimental game mechanics, 7.5 ECTS
Experimental game narratives, 15 ECTS
Project in game development I & II – Game writing, 15 ECTS
Project in game development I & II – Design, 15 ECTS
Preproduction of story driven games, 7.5 ECTS
Academic record
MA in computer science: Serious games University of Skövde, Sweden 2010
Serious Achievements – Design guidelines for a game based feedback system in serious games
BA in hypermedia: Computer Game Development – design and programming University of Skövde, Sweden 2006
Serious game design – Games for rescue services
Publications