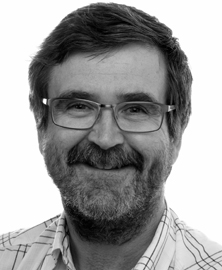 Professor Mechanics of Materials
School of Engineering Science
Contact info
PhD 1985 and Docent 1989, Chalmers University of Technology
Professor since 1999, University of Skövde
Professor Stigh's main research interests are in understanding and modelling fracture and deformation processes in materials. Publications span topics from development of experimental methods for non-destructive measurement of creep damage and measurement of cohesive laws to methods for development of constitutive laws considering thermodynamically enforced limits.
Ongoing research
Today, research is focused on cohesive modelling of fracture in adhesively joined structures and composite materials. The Skövde group has developed experimental and numerical methods to measure, model and analyse fracture of adhesives and delamination of composites. Research projects are presented at www.his.se/MechMat
Lecturing
The Finite Element Method 1993-2010
Other activities
Professor Stigh is the vice dean of the Faculty Board for Informatics, Engineering and Natural Sciences (2011-2013).