What is behind the hugely successful games from Sweden and Skövde? How does a game come to be and how much thought, planning, knowledge and hard work is required? These are questions that the University of Skövde, together with students from the Game Development programmes, will try to answer during the game conference So Long, and Thanks for All the Games, 31 May and 1 June. The conference is free and open to the public - welcome!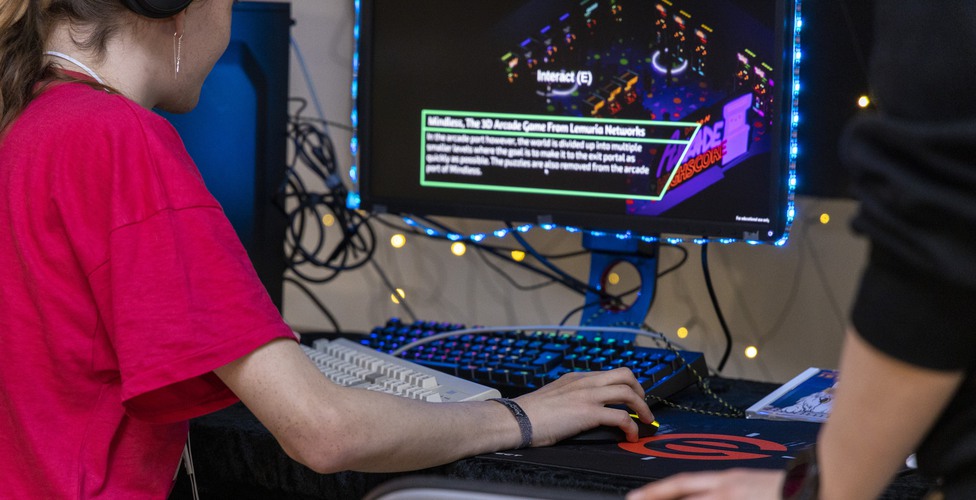 During the conference, you will be able to both listen to the students' individual presentations about their games or components they created for the game, as well as test the games on display.
The expo will have 30 exhibition spaces. Most exhibitors are from the course Game Project 3, but student groups from the Game Project 2 course also participate. Individual works and theses will also be displayed.
Keep an eye on this page going forward for more info about the games.
Read more The secrets behind the successes – an insight into the creation of the digital games of the future
Conference opening hours
Wednesday 31 May at 08:00 – 17:00
Thursday 1 June at 08:00 - 15:00. (The expo closes at 14:00.)
The times may be slightly adjusted.
The conference is held throughout the entrance floor of Building G, both in the corridor and in the halls.
Presentation Schedule
You can find the students' presentation schedule and their abstracts (in PDF format) on Canvas.
The games
Temportal
Unity Unicorns
Temportal is an exhilarating and adrenaline-pumping experience where the player assumes the role of a courageous hero who embarks on a mission to restore balance and reclaim what is theirs. The protagonist must traverse through the fabric of space and time, venturing into different dimensions teeming with treacherous enemies and challenging obstacles. Each dimension represents a distinct and visually stunning world, filled with unique landscapes, creatures, and dangers. This fast-paced bullet hell game is packed with action-filled boss fights that will challenge your skills.
Out of Hand
Bord Game Studio
Out of Hand is an action-packed party game designed for 4 players with a fast pace, featuring quick, intense, and often laughter-filled gameplay rounds. Compete against your friends using a wide range of weapons and grenades, but don't forget to watch out for the banana gun!
Just Read the Instructions
Knackelibang Productions AB
Just Read the Instructions is a cooperative first-person-shooter where the player is trapped in a procedurally generated world created by pronounced artificial intelligence (AI) and is forced to follow specific instructions in order to progress further in the game. Play through unique levels and get a satisfying shooting experience by blasting thousands of enemies with powerful guns.
(Knackelibang Productions AB is an established game studio where two students have been working during this spring.)
Nim & The Twin Suns
Foxlight Games
In the arid world of Dunya, full of sand dunes and ruins from an older world, the courageous adventurer Nim must find her friend and reclaim what was taken from her. In her way stands miles of scorching heat under the twin suns, along with a multitude of creatures and monstrous denizens of the desert. Will she be reunited with her friend again, and will they ever find Wadi; The Eternal River? Or will they fall victim to the machinations and schemes of the Great Jinns?
Fae & Fauna
Aurora Arts
Fae & Fauna is an upcoming open world pet collecting role-playing game. Embark on a journey where you and your magical pets rummage through breathtaking environments and fight against the dangers lurking in the wilds! Each area holds its own unique story and its own history, waiting to be discovered by you!
Odinfall
Ember Paw
Ragnarok was just the beginning… of the end! Odinfall is a viking-themed, rogue-lite, twin-stick shooter. Blast your way through procedurally generated levels, upgrade your character, modify your weapons and take down robotic Norse gods to earn your freedom!
(Ember Paw is a startup studio where the student Nora Mattson has been working during this spring.)
A-Star Theft
Kehler Creations
Execute mischiveous and violent heists with a wide variety of methods. Sneak or shoot your way to the loot using specialized equipment tailored to each strategy. Play as Logan Huntborn, and fight to keep your crew safe and free after getting offered a deal.
Dead Air
Beak Hat Studios
Dead Air is a single player 2D-top-down horror game that takes place in a land ravaged by war and a mysterious plague. Take on the role of a field medic, Florence Corvus who has lost contact with her team of soldiers. She alone must search for them - and the truth behind the plague - with mutated monsters lurking around every corner.
A.R.G.
Team ARG
Has science gone too far? Human cloning for making soldiers might just be the future. But adding consciousness to these clones makes them angry. Play as the vengeful Clone soldier, and destroy your creators in the futuristic Sweden.
Detachment
Grupp C
A Fast-paced grappling hook platformer. Try to escape from a lab that created you as an experiment.
Stolen Melodies
B.E.D. Productions
Don the role of young heroine Dawn as you utilize Magenergy™-driven technology to hack, slash and dash your way in your quest to defeat an evil that has besieged the singing forest of Heimviðr, which magical songs your home has to harvest and refine into the Magenergy™ that your society is built upon.
One More Tale
Sebastian
A father tries to cheer up his daughter during a time of difficulty with the help of positivity, imagination and dedication. However, it proves to be problematic to achieve that in a situation characterised by affliction and doubt. All he can do is try and hope for the best.
This list will be updated continuously.