Jonas Mellin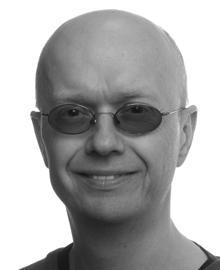 Senior Lecturer in Computer Science
School of Informatics
Room PA520D
CV
Research projects
Start
End
Research project/role
2011
2011
Project leader of Envolve Data Collection prestudy
2010
2012
Project leader of the WeShare2012 – demonstrator 2 project: Information fusion and database technology in ambient assisted living
2005
2011
Member of the Information Fusion program
2000
2005
Project leader of the TETReS project.
1997
1999
Real-time operating systems evaluation project for Ericsson UAB, Stockholm.
1997
1997
Requirements engineering project for IDAB-WAMAC, Eksjö.
1996
1996
Technology Transfer Project of Real-time database system technology to ENEA.
1993
Present
Senior member of the

DeeDS

(Distributed Active Real-Time Database System) project.
1993
Present
Senior member of the

DRTS

(Distributed Real-Time Systems) research group.
Programming languages
Imperative C/Pascal/OCCAM-2/SISAL
XML XPath, XSLT, XQuery
Object-oriented C++/Python/CLOS/Modual-3/SDL
Functional
Lisp/ML
Script Perl/awk/Bourne shell/C shell/Tcl + Tk
Assembly MOS Technologies 6502/Motorola 6811/Motorola 68060/SPARC/Intel
Tools, environments, database management systems, operating systems, etc.:
Ptolemy II, OMNET++, Opensim, CERTI
Unix System V.4, Unix BSD 4.3, Linux
MS-DOS, Windows 98, Windows NT, Windows XP
GNU toolset
SDT
Oracle, SQL Server, Access
XML (Saxon, Nux, Xalan: DOM, SAX, StAX)
2019
2016
2015
2014
2009
2008
2006
2005
2002
1999
1996
1995