Marcus Toftedahl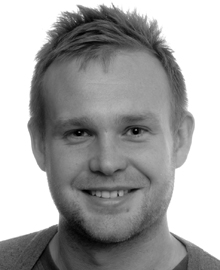 Lecturer in Media Arts, Aesthetics and Narration
School of Informatics
Room PA420F
Marcus Toftedahl is a game researcher, developer and lecturer at the University of Skövde, Sweden. His main competences lies within game production, game localization and game design, from a practical and research perspective. Marcus has worked at the University of Skövde since 2009 and has since then co-developed the world's first full concentration game writing education at university level and is teaching game design and game production.
His main research interests are within the game production field, where game development and game design are in focus. With his close connections to the local indie scene the research conducted is focused on the practical issues and challenges of game development in small studios. Marcus has also a deep interest in serious games research and development, where he has led multiple game development projects as a part of the University's digital game research.
Since summer of 2016 Marcus is focusing on his Ph.D. project in Socio-technical systems researching the mechanisms behind being a local game developer in a global industry. The research aims to get a better understanding of the global games market from a developer perspective. As a part of his research, Marcus has done numerous study trips to game development studios in Asia and Scandinavia to get an understanding of current game development practices.
Notable Presentations
Asian Markets on the Rise
Marcus Toftedahl, Per Backlund, Shailesh Prabhu
Nordic Game Conference 2018, Malmö.
Beginning with the Word: Building a Game Writing Program
Marcus Toftedahl, University of Skövde & Lee Sheldon, Worcester Polytechnic Institute
Game Developers Conference 2016, San Francisco. GDC Education Summit
Pong Design and Wow Factor
Marcus Toftedahl
Nasscom Game Developers Conference 2016, Hyderabad India. Game Conference presentation.
Tencent Functional Game Jam 2018, Shenzen China. Invited speaker.
Perfect World Education 2019, Beijing China. Invited speaker.
Serious Games Research and Development
Marcus Toftedahl, Per Backlund
Tencent Research Institute 2018, Beijing China. Invited speaker.

Swedish Game History
Marcus Toftedahl
Västergötlands Museum, Skara 2017
Alingsås Museum, Alingsås 2017
Vetenskapsfestivalen, Göteborg 2017
Notable Development Projects
Hidden in the Zoo
University of Skövde, Change Attitude Foundation and IUS Innovation, 2014-2018
Game designer for an augmented reality game on the topic of grooming on Internet
It's About Time
University of Skövde and Regional museum of Kristianstad, 2014-2017
Project manager and game designer for an interactive museum exhibition
Karlsborg's Fortress Adventure
University of Skövde and Karlsborg Tourism Authority, 2010-2013
Project manager and game designer for a mixed-media adventure walk at Karlsborg Fortress
Research
Publications
Projects
2022
2021
2020
2019
2018
2017
2016
2015
2014
2012
2011