The HELICOPTER proposal aim at exploiting ambient-assisted living techniques to provide older adults (end users) and their informal caregivers with support, motivation and guidance in pursuing a healthy and safe lifestyle.
The proposal is targeted at 65+ adults, not suffering from major chronic diseases or severe disabilities, yet possibly being affected by (or being at risk of) metabolic or circulatory malfunctioning which are endemic for this class age (e.g. hypertension, mild diabetes) or by mild cognitive deficits. This picture actually includes a large fraction of aging population. It is also well known that bad life habits play a major role in developing and progression of such diseases: nutrition, medical therapies and physical exercise are among the keys for prevention and control.
For instance, in older adults often the (quite normal) situation of impaired glucose tolerance turns into real Diabetes: proper lifestyle is estimated to reduce chances of such evolution of 60%. Similarly, overweight conditions may turn into obesity and involve other pathology like hypertension, hypercholesterolemia and diabetes; effectiveness of lifestyle-based prevention is largely demonstrated. However, regular checking of health parameters or regularly reporting to the physician or caregivers is often overlooked, due to boredom, perception of complexity or lack of motivation.
The HELICOPTER idea is thus to support end-user and their care givers with feedback, advice, and motivation by analysing the healthiness of the end users via monitoring of daily life behaviours as well as medical status in an unobtrusive way and simple way by employing ambient intelligence. Aiming at providing end-users and their caregivers with feedbacks, advice and motivation, the system will acquire data coming from a heterogeneous set of devices: besides devices customarily adopted to check for basic health parameters, environmental and wearable sensors will be exploited to provide a qualitative and quantitative assessment of the activities carried out. Behavioural analysis techniques will be implemented to this purpose and an interpretative model will be worked out, both exploiting "a priori" medical knowledge and accounting for "self-training" of the system. The evaluation of the health-quality of the inferred activity pattern will enable several services, aimed directly at the user (warning, encouragement, motivation) or to the caregiver (alarms, reports). Eventually, this would make the health monitoring routine much less boring and demanding; indirect wellness monitoring through ambient intelligence may possibly lead to reduce the need of frequent checking of clinical parameters. It is worth stressing that the HELICOPTER system will mostly exploit technology primarily conceived for different function: environmental sensors, for instance, are used for environmental control and safety checks. Hence, the HELICOPTER services will complement other services supporting independent life, highlighting mostly an innovative way of exploiting a wealth of information already available for different aims. For the same reason, (the HELICOPTER system being largely based on existing technology) it is expected that no major obstacles could threaten the potential market exploitation of the HELICOPTER services, within a relatively short timeframe from the project's end (tentatively 1-2 years, needed for product engineering and marketing).
Project leader
Senior Lecturer in Computer Science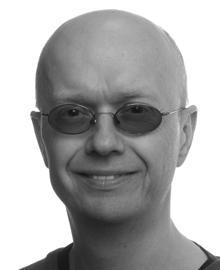 Jonas Mellin
School of Informatics