Manufacturing industries are constantly challenged by the market to improve product quality, increase production efficiency, ensure safety, and enhance sustainability. In this project, the team will be analyzing the interactions between digital systems and the physical world to see: Is it possible, with the target users' satisfaction and safety in focus, to integrate optimization-enabled Digital Twins with Augmented Reality and other advanced sensing technologies to drive manufacturing companies toward a more agile configuration and operation in the industry 4.0 era?
To approach the question, the project will investigate three important areas (each as a sub-project) that can directly affect the production efficiency and act as a driving force to direct manufacturing companies toward agility.
Sub-projects of ACCURATE 4.0
Line Balancing Optimization (LBO)
The LBO subproject mainly concerns with the optimal allocation of work tasks and resources to workstations as well as to determine the optimal production sequence of products in the presence of human-robot collaboration.

Dynamic bottleneck analysis (DBA)
The DBA is targeted at analyzing the entire production flow on the shop floor, identifying the bottlenecks and providing optimal solutions for smoothing the production fellow.


User-centered Technological Innovation (UTI)
The UTI takes care of safety and satisfaction by developing Augmented Reality (AR) technology to assist operators and developing reliable collision detection and collision avoidance systems.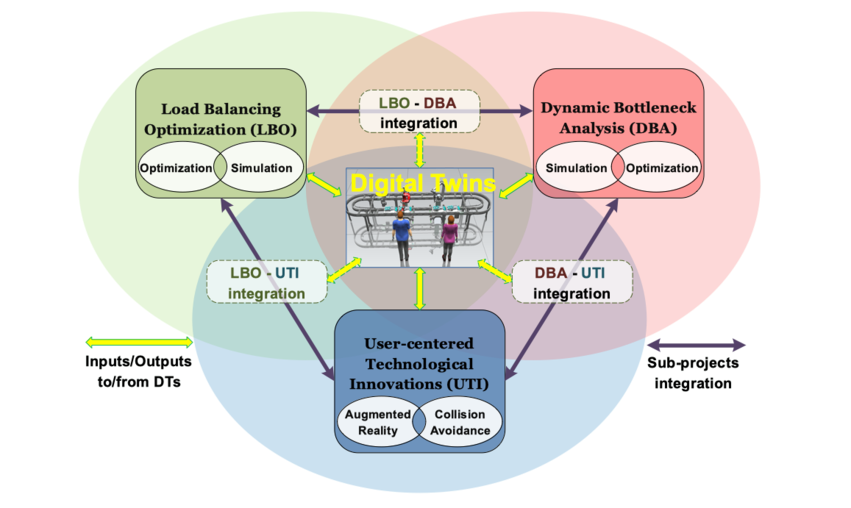 The image above visualise how the subprojects LBO, DBA and UTI are interconnected and, collectively, facilitate the achievement to have an efficient production plan in the agile manufacturing industry at the presence of Industry 4.0 technologies.
Develop platform to ensure synergy
To ensure synergy among the subprojects and as the primary outcome of the ACCURATE 4.0, an integrated platform will be developed by merging the outcomes of the three subprojects. This platform will support the manufacturing industry for moving toward agile configuration and operations with the use of both traditional and emerging technologies and concepts (e.g., digital twin, AR, and optimization) while providing a safe working environment and improving the workplace attractiveness and the operator performance.
Advanced manufacturing places
ACCURATE 4.0 is targeting advanced manufacturing places where humans, robots, and machines work collaboratively to overcome production challenges caused by mass customization as well as to enhance efficiency, operator safety and satisfaction.
Expected result
The ACCURATE 4.0 project aims at developing methods, computer-based tools, and technologies that could facilitate the transition of the manufacturing industry toward agility and digitalization as the key enabling factors of Industry 4.0.