This project is one of several ongoing projects in the research "Future diagnostics of sepsis". The goal is to develop earlier and more accurate diagnostics for sepsis in order to increase the chance of patients suffering from survival and with less disease complications.
Sepsis is a potentially fatal immune response to bacterial- and fungal infection in the human body. Early diagnosis is crucial. SMARTDIAGNOS will achieve 1-3 hours diagnosis time by multiplex technology, decreasing morbidity and mortality up to 20%.
The SMARTDIAGNOS project will advance sepsis diagnosis by simplifying clinical sample analysis methods and integrating the currently required numerous steps into a single streamlined device. The system will go beyond the state of the art and achieve shorter time, higher sensitivity (95%), higher selectivity (99%), multiplexing capacity, antimicrobial resistance profiling and automation.
Fast and correct sepsis diagnosis will improve patient outcome and shorten intensive care stays, thus reducing health costs.
Poster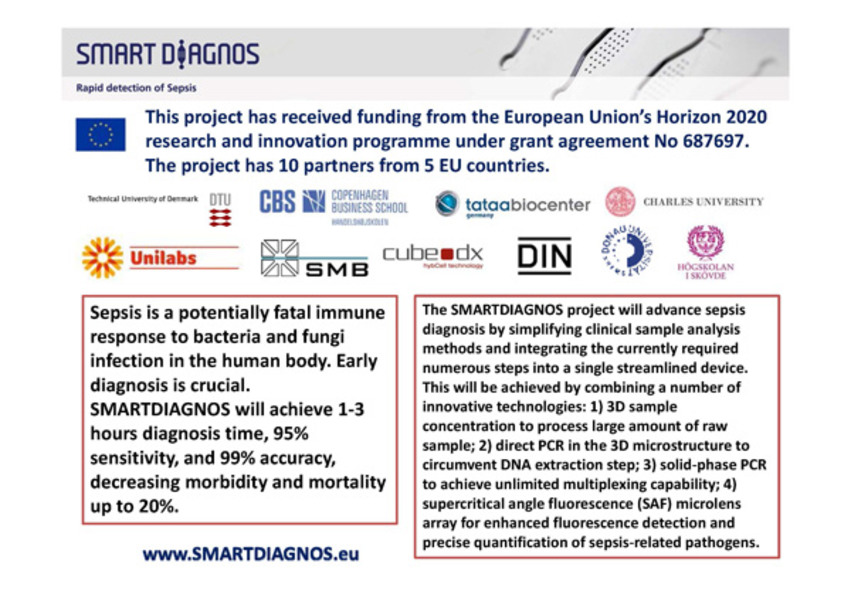 Kickoff February 2016


Group picture from the kickoff 2016
For more information
Financed by
This project is financed by EU Horizon 2020 research and innovation programme under grant agreement No. 687697