Over the past years, Sweden has seen a large increase in micro producers, owner of energy system. That means more installations of low voltage distributed generators and energy production systems, such as solar panels, bioelectrical energy, wind energy etc., have been connected to traditional grids. The Swedish system is set-up in a way that a micro-producer can either consume the electricity the energy system produces or feed it into the grid. The electricity not used is automatically delivered.
Protect micro-grid system
But as we see more and more micro producers, there is a raising challenge on how to protect the microgrid systems during operation, power balancing and communications between different distributed generators. It is, therefore, essential to develop scientific methods to ensure the infrastructure automation and the decentralized application of energy production and distribution.
Develop blockchain solution
It is desirable to integrate the production and distribution of these low-voltage electric powers together with traditional power grids creating a common and secure power-sharing system. Therefore, in this project, we will develop a blockchain based solutions that will provide a safe, reliable and efficient application of new low-voltage energy production and distribution that can be integrated to a regional or national power grid.
In order to evaluate the effectiveness, we are going to demonstrate a pilot simulation project based on the implementation of the proposed technology to test a secure storage and exchange of data in supporting the free trade of energy in smart grid (microgrid) in Sweden.
Will maximize energy production
If the project results prove the feasibility, this method can be widely used and add value to the current energy control system and will optimize renewable energy production, distribution and consumption. This new technology will provide a fast, safe and precise solutions to support and coordinate production and distribution of energy. This could in turn contribute to the environment (climate change) by maximizing energy production and consumption as well as minimizing energy loss.
Project leader
Senior Lecturer in Computer Science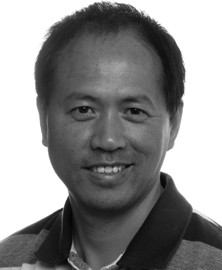 Jianguo Ding
School of Informatics