Love brought him to Sweden and since 2005 he has been working at the University of Skövde. Now the Dutchman is one of the country's foremost experts on crisis preparedness. He collaborates with Swedish Civil Contingencies Agency (MSB), has been called in to the government as an expert and often appears in the media. Meet Joeri van Laere, Associate Professor of Informatics.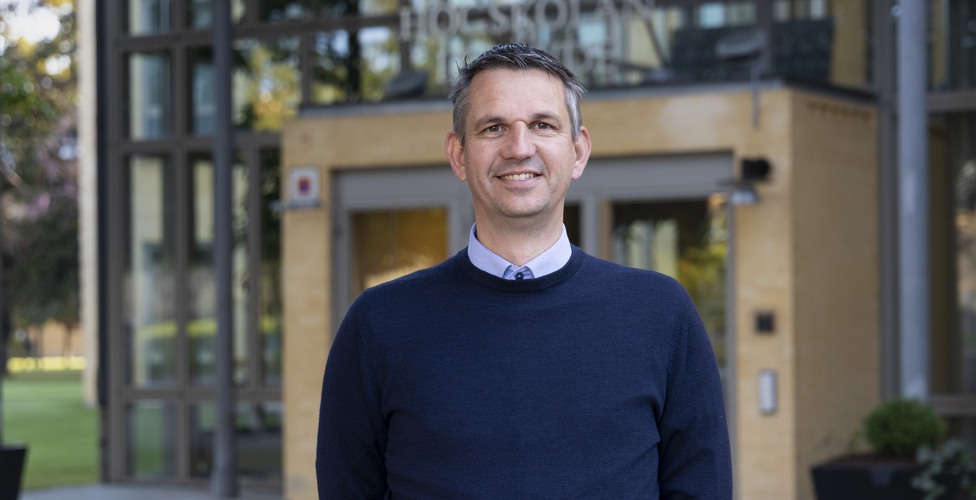 When Joeri van Laere met his wife to be during his studies in Holland, it quickly became clear that it was a future in Sweden that awaited.
"My wife has partly grown up in Sweden and wanted to return. It was a very forward message that I received from her early on," says Joeri van Laere.
Joeri studied Management Science, but did his doctorate in Informatics at Delft University of Technology. In his work, he focused on how IT can support the business from an organisational perspective. While working on his Master´s thesis, Joeri therefore spent time with the police force in Amsterdam to investigate how they could perform police work with new technology. He then held a position as lecturer in Communication Science at Wageningen University before the family moved to Sweden.
"My wife got a job as a doctor at the Health Care Centre in Skara 2004. I was then completely focused on applying for a job at the University of Gothenburg. I had actually no idea that the University of Skövde even existed, though it is so close to where we moved."
Studied Swedish and found the right university
During his first couple of months in Sweden, Joeri devoted himself to full-time language studies.
"It was tough learning a new language as a 30-year-old. Admittedly, we had been in Sweden quite a bit and I understood some Swedish, but speaking the language myself was difficult. Of course, I had good help from my wife, who could correct my pronunciation, but then also from our children as they learned the language quickly. During this time, I became aware of the University in Skövde and that there also was research in my subject area. I met the professors and that led to a project position, which became a fixed-term position, which then became a permanent position."
Research project on crisis training
At the University, Joeri first got a Post-doc-position and was able to continue his research in Sweden. Together with Professor Benkt Wangler, he applied for funding from the authority now known as the Swedish Civil Contingencies Agency (MSB), for a research project on municipalities and crisis drills. Through practical exercises, Joeri and his research colleagues would teach municipalities how to act in a crisis and work with crisis management.
"I was very motivated to learn the language quickly because when I was going out to businesses and talking to people, I wanted to be able to speak Swedish with them. During 2006–2013, we visited all municipalities in Skaraborg (the region where the University of Skövde is located) and carried out crisis exercises in the form of role plays."
The research for MSB led to a series of other projects in crisis preparedness. Among other things, "Virtual Simulation for Training the Emergency Services" and the research project "If the payment Systems Crash" have received a lot of attention.
"There are major consequences if the infrastructure critical to society does not work. If the payment system doesn't work, we can't fill up our cars, can't go to the store, and customers can't pay for our goods either, just as the transports can't bring goods. It is important to see each other's problems and gain greater insight. We have visited county administrations from north to south and through a discussion game have provided a greater overall understanding of crisis preparedness between different actors."
Joeri van Laere often appears in various media, both in national media and local media, to answer questions about crisis preparedness and what happens when payment systems crash.
"It is a topic that is close to people's everyday life and things have happened in society, such as the national supermarket Coop's cash register system being knocked out by an IT attack."
Important to say yes
As a researcher, Joeri believes that participating in the media is an important part of the job and that it benefits the University.
"I say yes, every time I get questions about participation in the media and I think radio in particular is an exciting medium. But I remember when I was supposed to be on the Swedish TV show Gokväll, so as a Dutch person I actually had no idea how big it was. I understood that through colleagues and of course with the attention that followed."
Joeri van Laere has also been called in as an expert by the Swedish government.
"Our research has concretely made visible to authorities, shop owners and citizens, the consequences that arise when we cannot pay for life's necessities."
You are one of Sweden's foremost experts on Swedish crisis preparedness and are from Holland. How does it feel?
"Firstly, there are many other experts, but it is clear that for me personally it has been enriching to have a Dutch background in the way that I got to know two societies. I can pick things from both and that may have contributed to a greater perspective."
Since last autumn, a new research project has been underway at the University "Prepared to Formulate the Goal", which will strengthen Sweden's preparedness for various crisis. The project is financed by MSB and the aim is to train business, voluntary organisations, defence and authorities in setting common goals for various conceivable crises. It is a collaboration between the School of Business and the School of Informatics at the University.
"We are so close to each other here at the University, it is easy to find collaborations and it is an enormous privilege to be a researcher," concludes Joeri van Laere.