Paula Camargo Romera from Spain was supposed to study at the University of Skövde for one semester, but extended her stay in Skövde to a whole year. – The lifestyle here and the courses that the University offered made me change my mind. It was not enough with just one semester, says Paula Camargo Romera.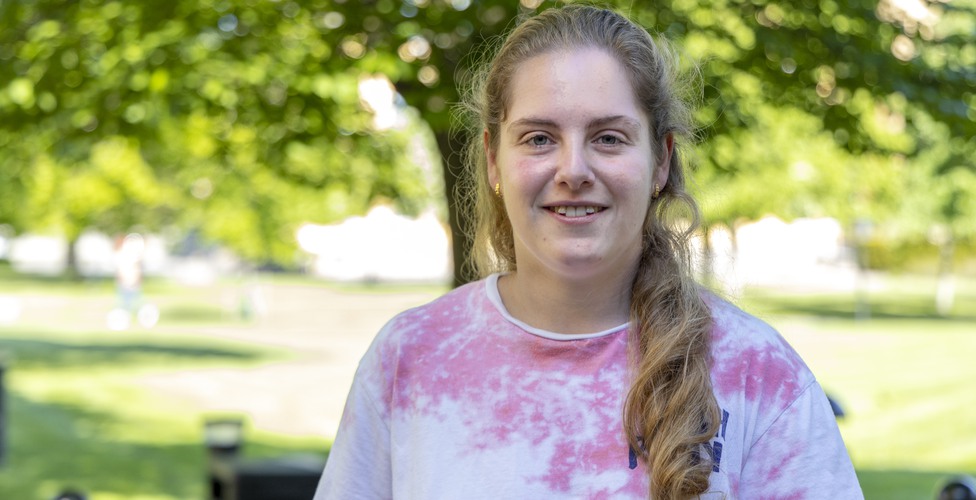 Paula Camargo Romera is from Barcelona, but in August 2020 she left Spain's second largest city to come to Skövde as an exchange student on the Erasmus programme.
– The University of Skövde has a good reputation in Computer Science and Game Development and as I wanted to study computer science I chose Skövde. I also saw that there were some courses in Bioinformatics and I wanted to see if mixing my both degrees was a good idea.
Smaller classes and more practical moment
After an International Baccalaureate Paula studied for a double degree in both Computer Engineering and Biotechnology at Rovira I Virgili University south of Barcelona.
– Here in Skövde, I am studying a mix of Bioscience, master of Bioinformatics and Data Science. The way of teaching here is different. At least the courses I have taken have more practical moments than theoretical. Back home it is the contrary and classes are also smaller at this university. Furthermore, the teachers are more close to students here.
Paula says that she also always has been attracted to and curious about the Nordic culture.
– I have always loved to travel and discover new cultures. Nordic culture has always attracted me, and I really wanted to get the opportunity to live in one of the Nordic countries for a period of time. The language has not been an obstacle for me because 90 percent of Swedish people speak English, and if they don't speak it, I am learning Swedish and I try to communicate in Swedish.
How would you summarise your time in Sweden, Skövde so far?
– It has been very good, it is a pity my time here will end. I have made a lot of new friends from different countries. Also, people from Skövde are very nice and helpful. And mount Billingen is perfect, I will miss going there for relaxing walks.
Paula will stay in Sweden
But even if Paula is leaving Skövde after a year, she will stay in Sweden even longer.
– I am moving to Uppsala. I will do my master´s degree in Sweden and it will focus on Bioinformatics. I will start at the University of Uppsala in August.
Would you recommend others to study abroad?
– Yes, of course! I would recommend everyone to study abroad because it is a great opportunity to meet new people, different cultures and get really good new experiences!
What do you think you are doing in five years' time?
– I hope that I will work with bioinformatics. I don't know where, but I would love it to be in Sweden.