Professor Homa Tajsharghi and her research group have succeeded in identifying and characterizing several new diseases of previously unknown genetic causes for rare diseases. She is now praised by the company 3billion, End the diagnostic Odyssey, and receives support in solving the diagnostic dilemma of neurogenetic diseases.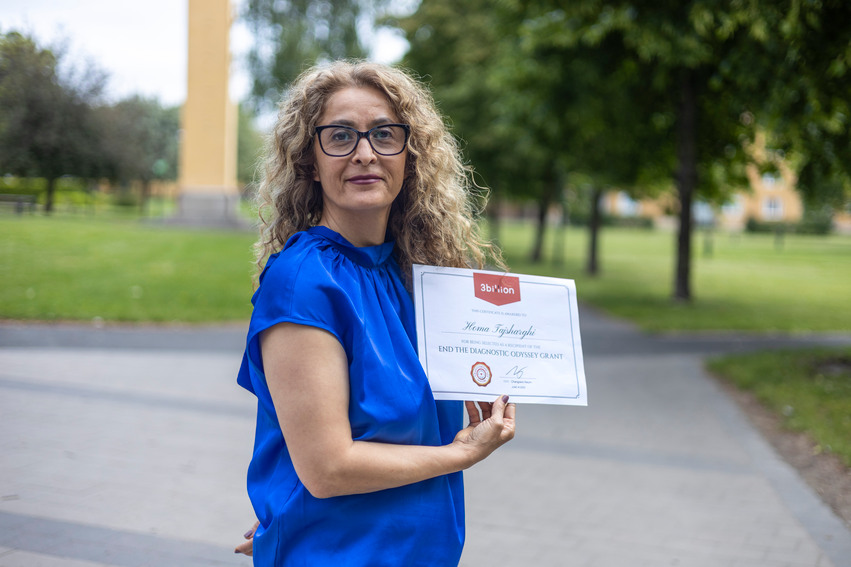 Recently, Professor Homa Tajsharghi, professor of Biomedicine at the University of Skövde, received an award from the 3billion, End the diagnostic Odyssey – a company that works with technology development for the diagnosis of rare diseases.
Homa completed her PhD in 2003 at Sahlgrenska Academy, Gothenburg University and has been at the University of Skövde since 2014. She has a longstanding experience in large-scale genomic data analysis and experimental pathobiology in human rare neurogenetic diseases. Homa has a strong interest in using advanced genetic technology and her group has successfully identified and characterized many new diseases of previously unknown genetic cause for rare genetic disorders. The method has focused on revealing new neurogenetic causes and understanding the pathobiology of diseases and testing therapeutic methods. Her methodology for research includes three parts: identification of new disease-causing genes and characterization of new rare neurogenetic disorders; understand the pathobiology of disease; and development of new therapeutic targets.
The focus of the new Neurogenetic Disorders project will be on the use of genomic data to determine the underlying genetic and molecular mechanisms of inherited diseases. The aim is to identify and characterize rare and previously unknown neurogenetic diseases. This will empower families and patients to know the cause of their illness. The work will continue to identify new genes that can be linked to neurogenetic diseases, as well as to reveal other as yet unknown genes involved in the development of rare diseases.
– I am deeply honored to be selected for this grant. This is an incredible opportunity for my research team to focus even more on large-scale sequencing and hunting for disease-causing genes involved in the development of rare neurogenetic disorders and to ultimately solve the diagnostic dilemma for families and patients, says Professor Homa Tajsharghi of the Department of Biomedicine .
Read more about Homa's research at his.se.