Veera Jokinen from Nokia in southern Finland has studied at the University of Skövde for the past three years. – I chose to study Biomedicine in Skövde due to the interesting course structure of the programme and the international atmosphere of the University, says Veera Jokinen.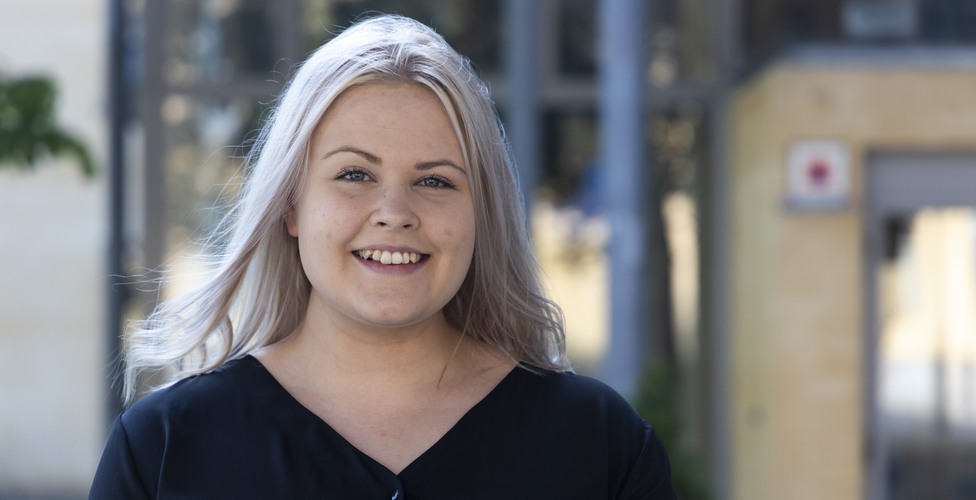 Many students who decide to study abroad chose to do so in countries quite far away from home and with a different culture from their own. That is not the case for Veera Jokinen as she decided to study in another Scandinavian country, she left Finland to study in Sweden.
– The Biomedicine programme at the University of Skövde has an interesting course structure. I was certain that I would gain a strong and competitive background by studying the Biomedicine programme in Skövde and that I would have the chance to interact with many international students and professors.
Prior to starting the Biomedicine programme Veera studied a variety of different subjects in high school, spanning from Russian literature all the way to astrophysics. Her main interest has always natural sciences such as biology, chemistry and physics with the aim of studying a degree in Biomedicine.
How are the teachers at the Biomedicine programme?
– The teaching is conducted by wonderful professors that are always accessible via e-mail or during office-hours. The teachers strive to give students examples from real working life, both from academia and industry, which makes the education practical and engaging. The ways of teaching span from lectures to student-lead seminars and discussions that challenge students and develop learning, presentation and interaction skills.
How are the lab studies?
– A huge advantage of the Biomedicine programme is that courses usually contain a practical laboratory-based session, followed by a written lab report. The laboratory assignments gradually increase in complexity, allowing for students to become familiar with techniques and to develop problem solving skills. The lab reports are written following the standard used in published articles and thus prepare students for a future career right from the start. During my thesis work in a research group at Uppsala University, I noticed just how much practical experience the Biomedicine program has given me. The lab supervisors at the University of Skövde do a fantastic job at pushing students towards individual scientific thinking.
What have been the best part of the Biomedicine programme?
– The practical lab sessions and different projects in the courses have been my favourite parts of the program, as they require hands-on application of the studied theories. As the courses progress, all the learned concepts start to tie together, and it feels great when you begin to make connections and weave your own network of knowledge. The programme has an incredible pool of international students from all around the world. Many exchange students from partner universities take the same courses as well, so it has been a great opportunity to get to know people and make friends. The University of Skövde also has a great number of partner universities and I got to enjoy studying a semester abroad at King's College London.
Will return to Sweden soon
Veera has just finished her studies at the University of Skövde and will go back to Finland soon, but just for the summer.
– My studies and journey at the University of Skövde are due to finish this summer. I have been lucky to call Skövde my home for the past three years! My time in Skövde and Sweden has been full of interesting courses, kind people and friends and fun trips in the beautiful nature. For the autumn semester I will be back in Sweden as I will study the Master´s programme in Medical research in Uppsala.
In the future Veera would like to work with cancer immunology and she hopes to be a research scientist.
– During the programme, I developed a passion for immunology and cell signalling. I got to study the activity of a major inflammatory signalling pathway in human immune cells and its ramifications in cancer immune responses during my thesis work, which I found extremely interesting. I would like to keep working with cancer immunology and combine this subject with proteomics in the future as a research scientist.