Victor Igelmo, a student at the Intelligent Automation Master's Programme, received the award "Industrial Engineering Student of the Year" on May 28 during Production Engineering Day at ASSAR. He received the award for his project where he designed AR experiences for the industry.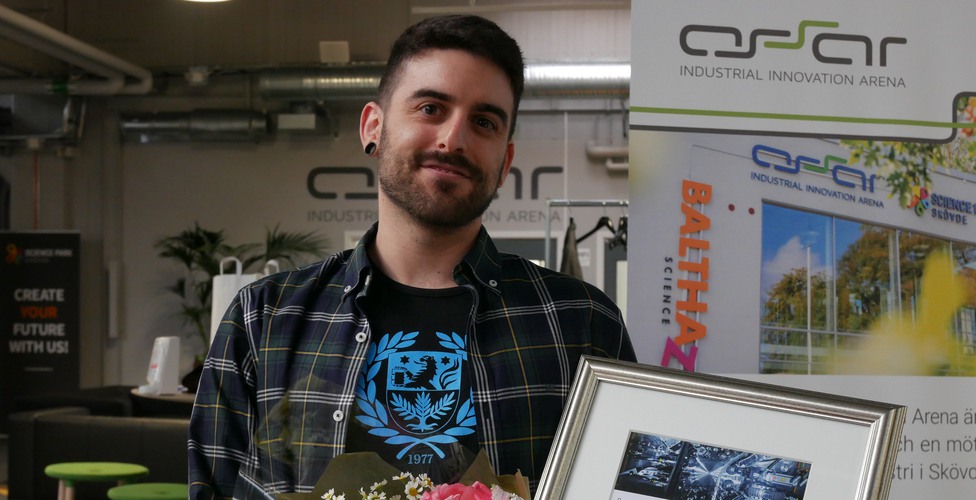 On May 28, this year's Production Engineering Day was held, with the theme "Make it happen with strategy and production technology". The event was entirely digital and was broadcast live from ASSAR Industrial Innovation Arena in Skövde. One of the programme points was to appoint this year's Industrial Engineering Student.
This year's winner, Victor Igelmo, is studying the last semester of the Intelligent Automation Master's Programme at the University of Skövde, and received a prize sum of SEK 10,000 for his thesis "Implementing a platform for Internet of Things".
- I am very happy and grateful that the University of Skövde gave me the opportunity to work with all this fantastic equipment so that I could continue to develop and get better, says Victor Igelmo.
Designs AR experiences for the industry
For his thesis, Victor has designed augmented reality (AR) experiences for industry cases, connected to an Internet of Things platform, making them context-aware and creating value through data.
The idea for the project came from Volvo. The company works to use this type of system in a re-manufacturing facility, where AR could provide visual and useful information in a reliable and scalable way.
- AR can be used in many different scenarios, and we have been aiming to try to enable re-manufacturing. We believe that AR can help in many aspects of re-manufacturing processes, which can lead to a great profit for both industry and the environment, says Victor Igelmo.
- In the future, I would like to work with reconfigurability, where it is possible to use the information from the Internet of Things platform, not only to show information, but also to enable operations to move, adapt and reconfigure, says Victor Igelmo.
Read the full motivation
In his thesis, the winner has designed a platform for the concept of Internet of Things, and implemented this platform in a demonstrator at Assar Industrial Innovation Arena. The thesis shows the way in which the manufacturing industry can take the step into Industry 4.0 and what a working solution for the Internet of Things can look like.