Employees of Swedish companies in Thailand were recently invited to participate in a three-day online course in Simulation for Decision Support at the University of Skövde. The course package is a product of the collaborative INSA project, and is financed by VINNOVA. The purpose is to reinforce both the academic community's knowledge and the capacity for collaboration with business and public-sector organisations from a global perspective.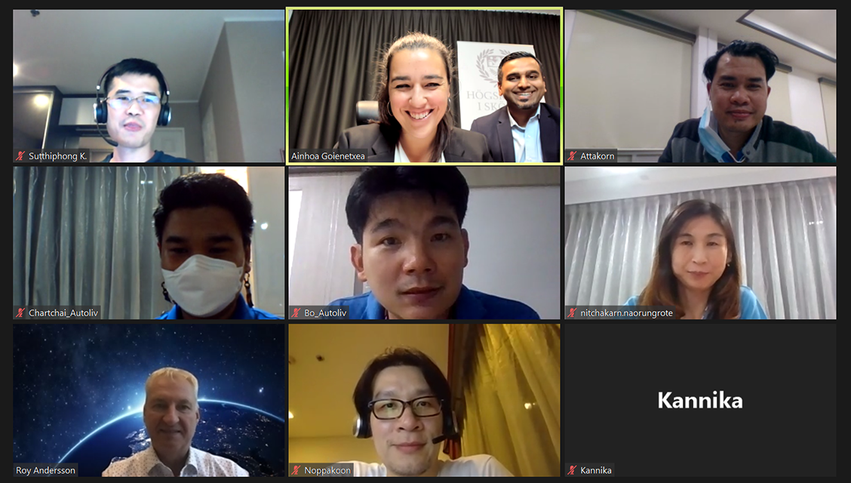 The University of Skövde and the School of Engineering at Jönköping University have joined together with a university in Thailand and the company Virtual Manufacturing to provide contract education for Swedish and domestic companies in Thailand.
- This package of courses is unique in the sense that Swedish universities have joined forces with non-Swedish universities to arrange corporate training overseas with the aim of sharing the latest knowledge with our collaborative partners in Thailand, included among which are Swedish international companies, says Roy Andersson, who is responsible for internationalisation at Jönköping University.
The original plan was for the courses included in the package to be conducted on site in Thailand in 2020, but the pandemic meant that the training was postponed and has only been conducted now, online. The participants study three courses on production engineering, and each course is held over a period of three days. First to be studied was the University of Skövde's course Simulation for Decision Support, which was designed following funding by the Knowledge Foundation as part of the Expertkompetens project.
Simulation – the production planning of the future
The University of Skövde is a national leader and internationally competitive in the research field of Virtual Manufacturing, and in recent years has experienced increased demand for courses for occupational practitioners, particularly within industry. Most of the courses that are requested concern new digital tools that contribute to a faster conversion of production, but other popular courses include those concerning leadership. Simulation, which was the focus of the course, is a powerful tool because it enables companies to test changes within a virtual environment. Decisions can then be made on the basis of factual data.
- In this course, we have explained how simulation can support strategic and operational decision-making in complex systems, such as in production systems. We establish an understanding among our course participants concerning when simulation can be used and how it can be incorporated into working standards for the organisation (e.g. Lean), thereby supporting sustainable development, explains Ainhoa Goienetxea, who is course-coordinator and senior lecturer in production engineering at the University of Skövde.
"Take our organisation from being good to being great"
Simulation for Decision Support featured both live sessions, where the lecturers held presentations and discussions live via Zoom, and recorded material that could be studied by the participants in their own time. This structure was deemed to have functioned well, and one of the participants stated that the knowledge they had now gained would enable them to take "our organisation from being good to being great". Kannika Mailuang is an HR specialist at Autoliv in Thailand, and also rated the course highly.
- The course has been very rewarding. It has given our employees an understanding of the many usage areas for simulation, and of the knowledge needed to be able to apply this technology in our daily work, says Kannika Mailuang.
Collaboration gives a ripple effect
The first of the three courses has now been completed, and Jönköping University with its specialist expertise in industrial production will be holding the next course, before the company Virtual Manufacturing holds the final course Roadmap for Industry 4.0 and 3D Tools in Manufacturing.
- We hope that providing short, flexible online courses for international companies will lead to new and exciting forms of collaboration. This course package has been extremely successful and positive for all parties involved. By strengthening the participants' capacity for innovation, we also increase the companies' capacity to enter into new forms of collaboration regarding research, development and skills provision, concludes Tehseen Aslam, who is an examiner and deputy vice-chancellor for collaboration at the University of Skövde.